Buy The Best Philippine "Lechón" Roasted Pig On-Line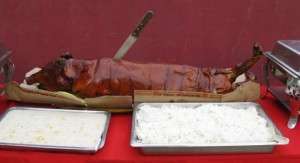 Get The Best Cebu "Lechon" Roasted Pig Delivered fresh and on time to your door in the Philippines.
Cebu has the best Philippine "Lechón" Baboy Roasted Pig available in the Philippines.
CNT Lechón is one of the most popular names in Lechón Pig.
But there is 1 other place that beats the taste of CNT hands down!